The current exploration focus of the Company is the Barkly Project, located approximately 45km east of the town of Tennant Creek in the Northern Territory, and comprises two granted Exploration Licences, being EL 28620 (Barkly Project) and EL 30701 (Babbler Project) located in central Northern Territory, south of the Barkly Highway. The Barkly Project is considered highly prospective for high-grade magnetite hosted gold-copper deposits, similar to other major deposits found elsewhere in the Tennant Creek Mineral Field, such as the Peko deposit, only 20km to the west of the Barkly project (Figure 1), that produced 147,000 tonnes of 4% Cu and 414Koz at 10 g/t Au between 1934 and 1981.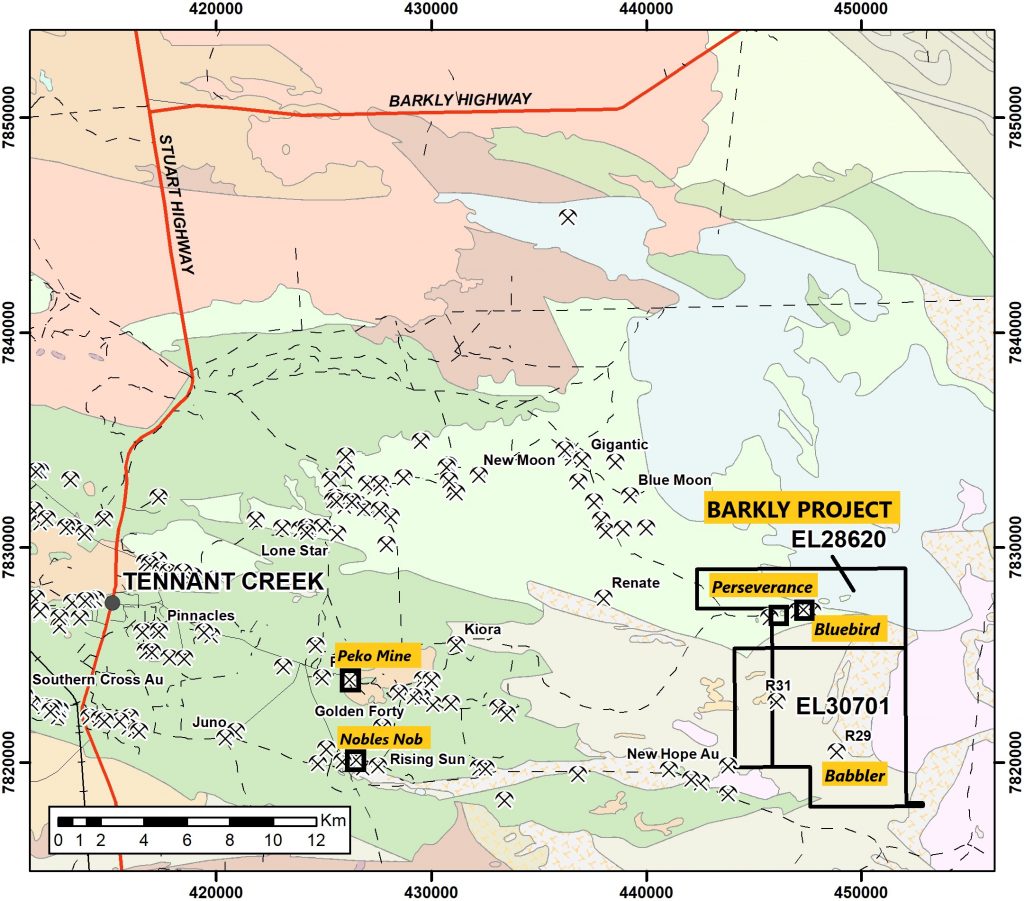 Barkly Tenement Location Plan
BLUEBIRD PROSPECT
The Barkly Project includes the Bluebird Prospect, that is located at the centre of a prominent gravity trend and coincident aeromagnetic anomaly along an interpreted west-north-west trending fault corridor, (see Project Location Map below). The "Bluebird Corridor" has been mapped for over 5km strike length and Bluebird is one of several coincident magnetic and gravity anomalies within this corridor. Ground magnetic and gravity surveys by the Company, followed by soil geochemistry, focused attention on the Bluebird prospect which is a small outcropping ironstone body pitted by historic mining and prospecting. RAB drilling programs were conducted in 2005 and 2006, intersecting hematite ironstone and hematite-chlorite alteration over a 600m strike length with anomalous copper, gold and bismuth.  RC and diamond drilling programs were conducted between 2014-2016 by Blaze International Exploration. Significant intersections include: 20m @ 8.17g/t Au from 157m in BBDD002 and 16m @ 3.02% Cu, 0.65g/t Au from 139m in BBDD004.
Previous drilling along strike from Bluebird has been limited to only shallow reconnaissance style and is unlikely to have penetrated a strongly leached zone that lies above the mineralisation identified at Bluebird. The historical Perseverance Mine is offset from the corridor but is associated with a discrete gravity – magnetic feature, that also remains un-tested at depth.
Recent drilling at Bluebird has identified a steep westerly plunging zone of copper-gold mineralisation that extends from 60m to >250m below surface and atleast 150m along strike in an east-west orientation.  Exceptional intersections of up to 63m @ 2.1% Cu, 4.6 g/t Au incl. 27.55m @ 3.6% Cu, 10 g/t Au, as shown on the cross section below: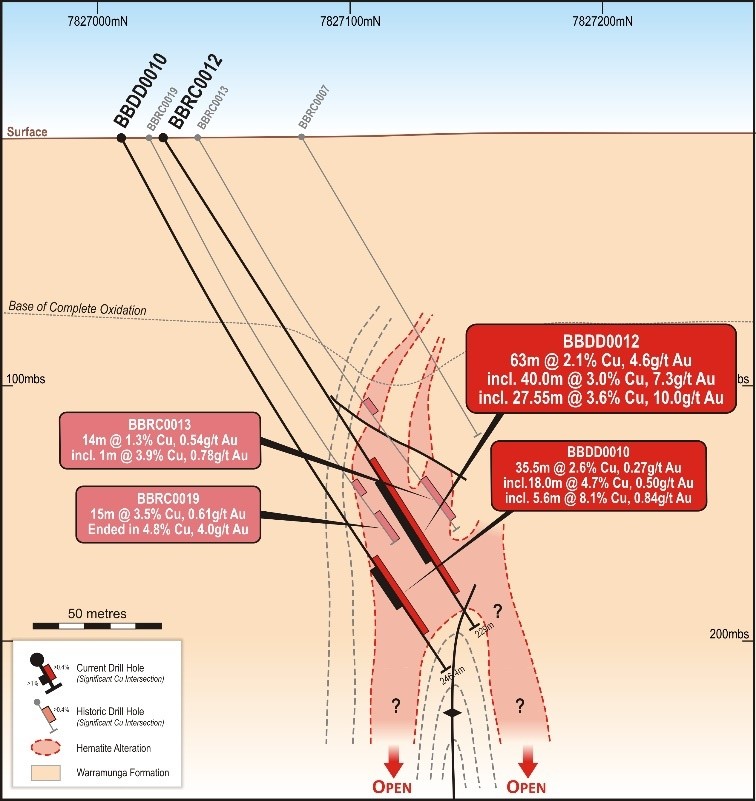 Bluebird Cross Sections
EXPLORATION AND DEVELOPMENT STRATEGY FOR BLUEBIRD 
The Company's primary objective is to complete further drilling in order to estimate a JORC compliant mineral resource and ultimately to develop a mining project at the Bluebird Prospect, within its Barkly copper-Gold Project, (see Location Map below), where previous drilling intersected high-grade copper-gold mineralisation at relatively shallow depth. Several of the holes in the 2020 program did not complete testing across the entire thickness of the mineralisation and the deposit remains open down plunge to the west and at depth. Bluebird is currently the highest priority and most advanced prospect within the Barkly Project area, however, further exploration is also planned along the 5km Bluebird Corridor to test other highly prospective magnetic-gravity anomalies that have not been drilled at depth. Systematic close spaced drilling will aim to accurately define the grade and the geometry of the known Au-Cu-Bi mineralisation.
The ultimate objective of the Company is to build a high-grade copper-gold resource base at the Barkly Project and advance the Barkly Project towards mine development.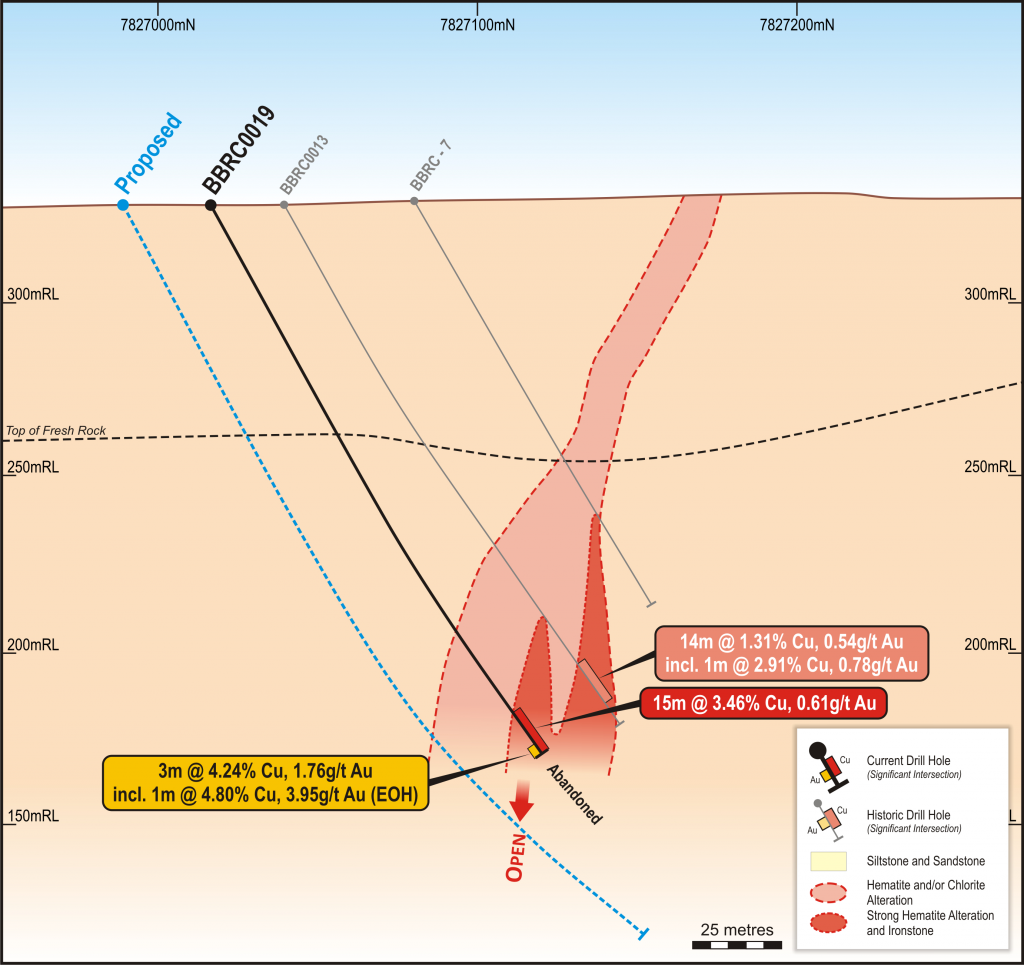 Bluebird cross-section 448360E with previous intersections and proposed drillhole[/caption]
REGIONAL SETTING AND PROSPECTIVITY
The Tennant Creek Copper-Gold Field is located within the central Tennant Creek Block where the oldest rocks are the Proterozoic metasedimentary rocks of the Warramunga Formation. The Warramunga Formation hosts the major iron oxide-copper- gold deposits (IOCG) and historically Tennant Creek IOCG-style mineralised systems have produced extremely high grades and supported highly profitable mines (Figure below).
The copper-gold mineralisation at the Bluebird Prospect is hosted by an east west striking, steeply south dipping, ironstone body. The ironstone body is interpreted to be controlled by a major east-west structure associated with a regional scale gravity anomaly and a discrete magnetic feature. Copper, gold and bismuth mineralisation at Tennant Creek is often associated with east-west striking ironstone bodies within west-northwest striking fault corridors, where they are intersected by north-east trending structures.
Major, high-grade, copper-gold deposits are located within 20km to the west of the Barkly Project and include the Peko deposit, that produced 147,000 tonnes of 4% Cu and 414Koz at 10 g/t Au between 1934 and 1981 and the Nobles Nob deposit that produced 1.1Moz of gold historically (see Figure below).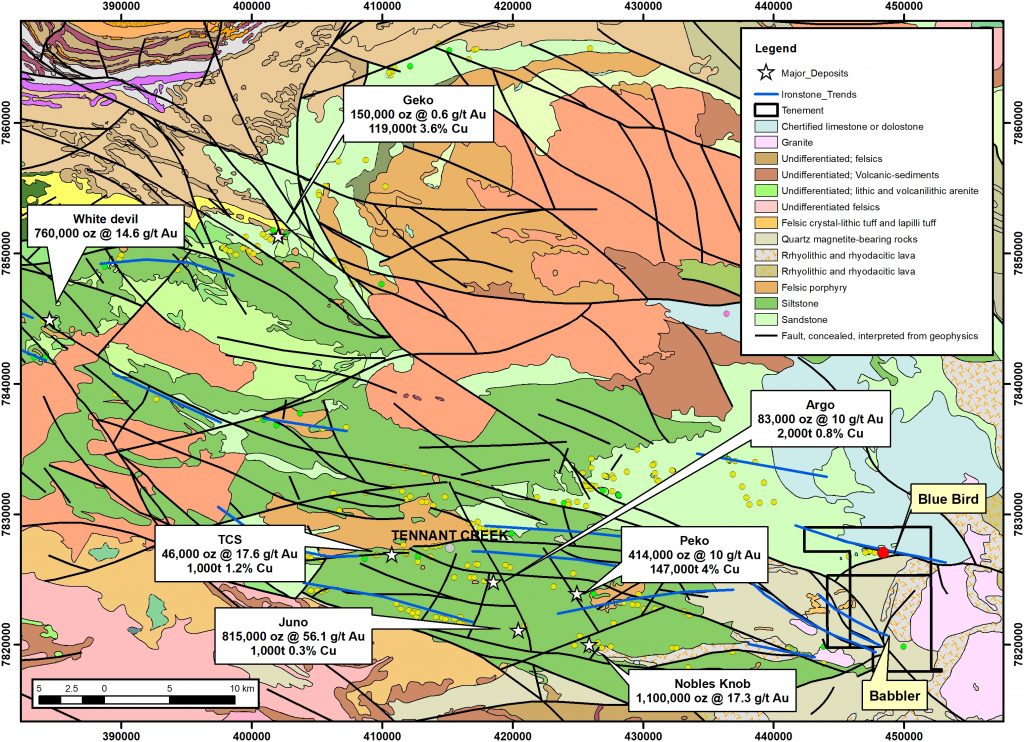 Geology of the Tennant Creek region showing major copper-gold deposits, occurrences and the Barkly Project